No One Will Ever Know…
Look, if Facebook already knows everything about you, then why would it force you to see stuff you can't read? Facebook doesn't do that, people who don't know how to run Facebook do that. I am still dumbfounded at the number of Korean businesses that post things in both English and Korean. That's just amateur hour. A few clicks and you too will showing viewers only the language they want to see.
Setting up Dual Language Posting
On a Page you manage, click on "Settings" in the top right.
Confirm that you are in the "General" settings section.
Click "Edit" for the "Post in Multiple Languages" section.
Check the box for "Allow people who manage this page to write posts in multiple languages."
Click on "Save Changes".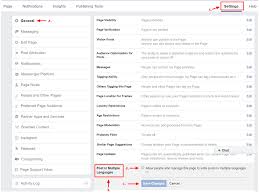 Now you can post in two different languages at once.
How to Post in Dual Languages
Click to post an update like you normally would.
Click on "Write post in another language"

Then choose your desired language and insert the post information there.
Write in your text in the respective languages and click "Publish".
Read more about this from our Facebook overlords themselves.